Documenting the interesting bits of the 2003 season.

Number of formations: UK: 70 Worldwide: 174



Updated 23rd July 2003:
The above formation was discovered on Woodborough Hill in Wiltshire on 14th July. It's an unusual asymmetric design. Because of this and the fact that the interior of the formation is bounded by a square some researchers have speculated that the central portion of the formation needs to be rotated in order to 'decode' the design.






Updated 13rd July 2003:
Late June / early July saw the arrival of the first of many designs based on Pentagonal geometry. These formations were discovered on 29th June at Sharpenhoe (bottom), close to Barton Le Clay in Bedfordshire and on the 6th and 13th July at Avebury (middle) and Avebury Truslow (top) in Wiltshire.


Discovered at Henwood close to East Meon in Hampshire on 7th July this triangular formation resembles a laser radiation warning symbol. The pathway leading from the formation points directly at a distant radio masts located at HMS Mercury about one mile away. The farmer harvested the formation shortly after it was discovered, maybe he was worried about all that invisible laser radiation the formation was obviously warning us about!
Photos courtesy of Russell Stannard and Steve Alexander






This formation was discovered at Beacon Hill in Hampshire on 5th July.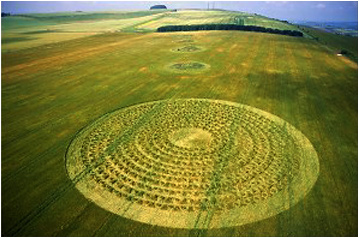 Updated 6th July 2003:
This impressive formation was discovered at North Down close to Beckhampton in Wiltshire on 6th July. It consists of 11 concentric standing rings with hundreds of mini-rings flattened inside each if the 11 rings.




Updated 24st June 2003:
This formation which was discovered at Tan Hill close to Stanton St Bernard in Wiltshire on 24th June follows in the tradition of optical formations that first started to appear in 2000.




Updated 21st June 2003:
It's always refreshing to see significant formations appearing in counties other than the usual stomping grounds of Witshire and Hampshire, especially when they also appear next to threatened neolithic sites. This formation which was discovered in a field of Barley next to Thornborough Henge close to Ripon in North Yorkshire on the 21st June is possibly the most complex formation to appear in the North of England to date. It's interesting to note that Thornborough Henge is under threat from nearby quarrying, are the circlemakers trying to send us a message, surely not I thought they went around 'desecrating' ancient sites? Visit the friendsofthornborough.org site to see how you can help.




The seasons first wheat formation. Ogbourne St.George, Wiltshire, 15th June.




Updated 7th June 2003:
On 7th June this spectacular formation (above top) in Barley appeared at the famed location of Windmill Hill, close to Avebury in Wiltshire. Spanning 6 tram-lines the formations diameter is approx 300ft. It's interesting to note that the centre of this vast formation is in standing crop. A couple of weeks later another beautiful formation (above bottom) consisting of ten nested crescents appeared at Windmill Hill, the formation was also in Barley.
Photos courtesy Steve Alexander.


Updated 21st April 2003:
It has begun! As per usual this years season kicks off with a sedate start in oil seed rape. This formation was discovered on 20th April at Privett, close to West Meon in Hampshire, a circles hot spot. It's figure of eight design is reminiscent of an infinity symbol.
Photo courtesy David Russell.